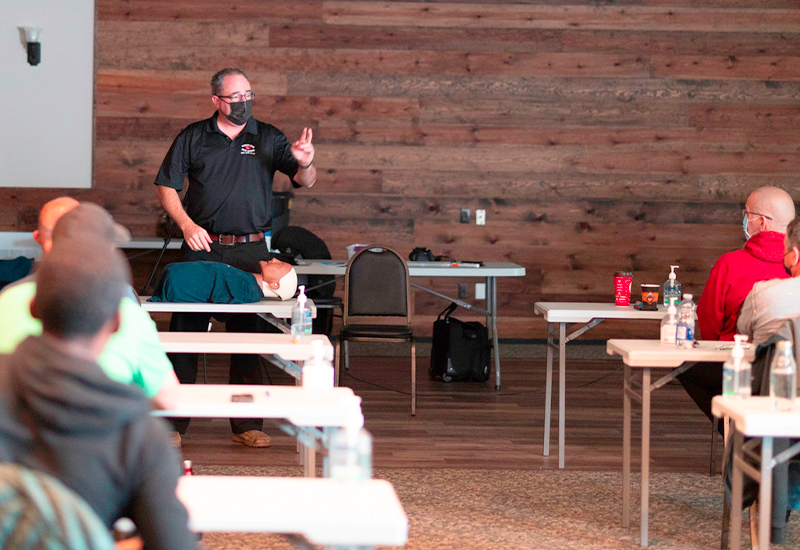 Éric Bernatchez has the Gatineau Valley tattooed on his heart. No way will he leave his birth region. That is why he launched his company, Premiers soins Haute-Gatineau, in Maniwaki back in 2003. Today, he serves the entire Outaouais region!
 The only time he left the Gatineau Valley region was to attend school in Ottawa and in Montreal to obtain a college diploma in commercial and industrial security techniques and a skills training certificate in ambulance techniques. "As a paramedic, it was clear that I wanted to return to my stamping grounds, where I am still working full time for the Coopérative des paramedics de l'Outaouais. I have deep roots in the region, which gives back to me. I earn a good living and I'm quite happy."
The largest CPR training firm in the Outaouais.
Now 46, Éric Bernatchez started his company in 2003. "A similar business in the region had just closed its doors. I saw it as an opportunity for me, and it was something that interested me. At the beginning, we were giving a CPR course every two months. Today, we give from 30 to 35 CPR courses a month all over the Outaouais. Never did I think that my company would grow to that extent over the years. It's now the largest CPR training company in the Outaouais with its 35 trainers."
The Maniwaki company also offers an occupational health and safety consultation service and sells all of the equipment needed for first aid kits. It also sells defibrillators, which are gaining in popularity, to the extent that the Gatineau Valley has the most devices per capita in all of Quebec with 140. "We offer a turnkey service with training and maintenance. To date, we have successfully resuscitated three people with these devices, two of whom were children. It's very gratifying when you can save lives."
Two years ago, he acquired Transport Médical Haute-Gatineau and its two adapted vehicles A third vehicle was added and a fourth should be on the way in the next few months. "The company was for sale, and jobs in my region were a concern of mine. Today, I have six more employees in my company in Maniwaki."
WE GIVE FROM 30 TO 35 CPR COURSES A MONTH ALL OVER THE OUTAOUAIS
Customers recognized in and outside the Valley
Premiers Soins Haute-Gatineau excels in CPR, first aid, oxygen therapy, spine boards, first aid in daycares and schools and cardiac defibrillation. It has numerous customers – the Outaouais health network (CISSSO), four school centres in the Outaouais, the UQO, the Cégep de l'Outaouais, several municipalities in the Gatineau Valley and the Outaouais, including the City of Gatineau, 32 fire departments and, of course, several companies in the region such as Kruger, Produits forestiers Résolu and Louisiana-Pacific.
"For a small Maniwaki company that has been able to develop a huge market across the Outaouais and is recognized in its field for the services and quality products it provides, I'm quite proud of it and am not afraid to say so."
EMPLOYEES OF THE CISSSO, UQO AND THE CÉGEP ARE CUSTOMERS OF OURS
Technology makes it possible to monitor the company's operations
Bernatchez shares this notoriety with all of his employees and self-employed workers. As manager, he uses technology to monitor his company's operations and has a full-time assistant.
"I always say that I'm not working, that I'm having fun. A company's success is achieved through its team and staff. The challenge is not getting to the top of the mountain – it's knowing how to stay there."
BERNATCHEZ SHARES THIS NOTORIETY WITH ALL OF HIS EMPLOYEES AND SELF-EMPLOYED WORKERS